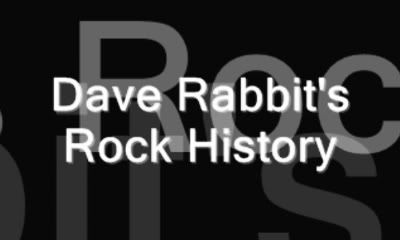 This is an 11 part Documentary that Dave Rabbit has been working on for almost a month. It is a behind the scenes look at Dave's rock history foundation, his band, the evolution of going from learning to play the guitar to being in a recording studio and cutting a record. It is the foundation that would shape his love of rock and be the catalyst for bringing that love to the troops who were fighting and dieing in the rice paddies and jungles of Vietnam, Cambodia and Laos. So grab a beverage of your choice and get ready to rock.
EPISODES
PART 02 – The Hammering Begins
PART 09 – Songwriter & Lawsuit
PLEASE Help Us GROW By Passing Dave's HOME PAGE URL
http://daverabbit.podomatic.com
To EVERYONE In Your E-Mail ADDRESS BOOK!
Subscribe To Dave Rabbit
With iTunes
Subscribe To Dave Rabbit
With RSS Feed
For Hundreds Of Other Dave Rabbit Media
VISIT The Dave Rabbit Show ARCHIVES
Comedy – Music – Rants - Interviews
VISIT The Dave Rabbit MY SPACE PAGE
VISIT The Dave Rabbit YOUTUBE PAGE
VISIT The Dave Rabbit FUNNY or DIE PAGE
VISIT The Dave Rabbit FACEBOOK PAGE

To DOWNLOAD This Program Put Your Mouse Cursor Over the word DOWNLOAD At The TOP, Then RIGHT CLICK. Slide The Cursor Down To SAVE TARGET AS And Then CLICK.... Now Just Decide WHERE You Want To Download The File To And CLICK SAVE.
CLICK HERE
To GO Or RETURN To Dave's
Main Home Page
NEW MEDIA WEEKLY – CHECK BACK OFTEN
JOIN The Worldwide Dave Rabbit
FAN NETWORK