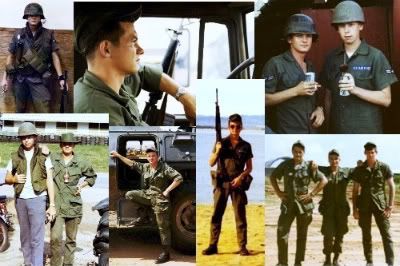 Radio First Termer – Saigon, Vietnam 1971 – PART 1
Radio First Termer – Saigon, Vietnam 1971 – PART 2
Radio First Termer – Saigon, Vietnam 1971 – PART 3
Radio First Termer – Saigon, Vietnam 1971 – PART 4
Radio First Termer – Saigon, Vietnam 1971 – BITS & GAGS ONLY
CLICK HERE For The Smaller 48 KBPS VERSION
WARNING – EXPLICIT LANGUAGE
This Is Made Possible By The Contributions Of
Tim Mailhot & Bruce Causey
This is the HD HIGH QUALITY DIGITAL VERSION Of The Original Saigon, Vietnam Show Is Made Possible By The High Quality Reel To Reel Tape That Tim Mailhot Sent To Will Snyder From The Tape That He Acquired From Bruce Causey Sometime In The Early 70's And Will Converted. There Are A Number Of Segments That Have Never Been Heard Before In Their Entirety.
This is the ONLY KNOWN EXISTING RECORDING of one of my 21 Pirate Radio Broadcasts that was done nightly from a Whore House in Downtown Saigon, Vietnam from January 1 to January 21, 1971. These recordings contain EXPLICIT MATERIAL, HARD ACID ROCK MUSIC and POLITICAL COMMENTS about the issues of the times which were SEX, DRUGS and ROCK and ROLL. These shows were created for the entertainment of the troops that put their lives on the line EVERY DAY in Vietnam and were part of the huge Anti-War movement which was happening within the military itself against the war in Vietnam.
DAVE RABBIT HISTORY
Courtesy Of Wikipedia
Radio First Termer was a Pirate Radio Station which broadcasted nightly from January 1, 1971 to January 21, 1971 from Saigon during the Vietnam War. Radio First Termer was hosted by on-air personality "Dave Rabbit," an anonymous United States Air Force sergeant. The two other members of the crew were known as "Pete Sadler" and "Nguyen". Their real names are unknown.
"Dave Rabbit", who is greatly considered as the Godfather of Pirate Radio, began his radio career in Vietnam working as a studio engineer for Radio Phan Rang. After three tours in Vietnam, "Dave Rabbit" and his friends launched Radio First Termer from a secret studio in a backroom of a Saigon brothel. The make-shift studio walls were lined with mattresses to deaden the sounds emanating from the brothel. The station broadcasted for a total of 63 hours over 21 nights (between January 1, 1971 to January 21, 1971). "Dave Rabbit" later admitted in an interview, that he was forced to stop broadcasting because he was fearful that his friends, who were protecting him and the show, were in imminent danger of being arrested and imprisoned themselves by his base commander, who hated his show and suspected that someone was protecting him.
The purpose of Radio First Termer, according to "Dave Rabbit", was to "bring rock and roll to the troops on the front lines." The station played "hard acid rock" such as Steppenwolf, Bloodrock, Three Dog Night, Led Zeppelin, Sugarloaf, the James Gang, and Iron Butterfly, bands which were popular among the troops but largely ignored by the American Forces Vietnam Network (AFVN). The music was mixed with antiwar commentary, skits poking fun at the U.S. Air Force and Lyndon B. Johnson. Raunchy sex and drug oriented jokes were a tremendous part of the nightly shows. "Dave Rabbit's" show also included a number of bits including "Tooth Picks In The Toilet" and reading GI comments off the latrine walls across Vietnam.
Although the frequency was always announced as FM69, "Dave Rabbit" has said in several interviews, in reality the show was broadcast over numerous frequencies. In addition to 69 MHz FM as selected by "Dave Rabbit", the Radio Relay troops across Vietnam also broadcasted Radio First Termer over other frequencies, including 690 AM.
In 1995 Will Snyder first posted sound clips from a Radio First Termer broadcast on the internet renewing interest in "Dave Rabbit" and Radio First Termer. In February 2006, after finding out that the surviving show was posted on the internet, "Dave Rabbit" came forward and told his story to several main stream media personalities including Corey Deitz with About Radio. Dave also did an interview with Director David Zeiger for a bonus feature on the DVD release of Sir! No Sir!, who had used some of his clips for the movie. Sir! No Sir!, was a Documentary Film dealing with G.I. counterculture and anti-war sentiment during the Vietnam era. On February 20, 2008, "Dave Rabbit" was interviewed on the Opie and Anthony Show from New York City. Opie and Anthony were long time Fans of "Dave Rabbit" and had come across their copy of the surviving 1971 show and tracked Dave down. Original clips from Dave's radio show were featured and continued the renewing interest in Radio First Termer and "Dave Rabbit".
September 30, 2006, "Dave Rabbit", along with a new crew including "Charlie Cooper" and "Nadirah", broadcasted a 35th Anniversary Show for the troops in combat. The complete show is available FREE on Pod-O-Matic on MP3's as well as the original 1971 Saigon, Vietnam Show.
On July 11th 2007, "Dave Rabbit", "Johnny Anonymous" and AboveTopSecret.Com created and launched a new worldwide show called ATS MIX.
VISIT Above Top Secret's Home Page NOW!
VISIT ATS MIX's Home Page NOW!
PLEASE Help Us GROW By Passing Dave's HOME PAGE URL
http://daverabbit.podomatic.com
To EVERYONE In Your E-Mail ADDRESS BOOK!
Subscribe To The ATS MIX Show
With iTunes
Subscribe To The ATS MIX Show
With RSS Feed
Subscribe To Dave Rabbit
With iTunes
Subscribe To Dave Rabbit
With RSS Feed
For Hundreds Of Other Dave Rabbit Media
VISIT The Dave Rabbit Show ARCHIVES
Comedy – Music – Rants - Interviews
VISIT The Dave Rabbit MY SPACE PAGE
VISIT The Dave Rabbit YOUTUBE PAGE
VISIT The Dave Rabbit FUNNY or DIE PAGE
VISIT The Dave Rabbit FACEBOOK PAGE

To DOWNLOAD This Program Put Your Mouse Cursor Over the word DOWNLOAD At The TOP, Then RIGHT CLICK. Slide The Cursor Down To SAVE TARGET AS And Then CLICK.... Now Just Decide WHERE You Want To Download The File To And CLICK SAVE.